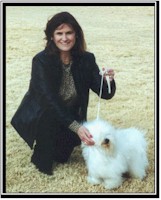 How did you meet the breed?
My very first dog was a Maltese. Several years later I acquired a Bichon Frise. I owned, showed, and bred the 17 th Champion of the top producing Bichon Frise in the World at that time, called Kobold?s Firecracker. I enjoyed these breeds, but was always curious about the Coton de Tulear. I had only seen their pictures in books. In 1992, they were on the cover of Dog World magazine and I decided at that moment I had to have one. They were so adorable.
Who were your first Cotons?
My first Coton was Lalique. I had always seen pictures of the Coton de Tulear in dog encyclopedias, but had never seen one in person. In fact I bought my first puppy sight unseen---having never actually seen a Coton of any age! I was very fortunate she ended up being a beautiful and loving puppy.
Can you explain the choice of your kennel name?
BAR-KEN COTONS was chosen because my name is Barbara and my husband?s name is Kent. By combining the names we created BAR-KEN. That sounded like a good name to use for dogs!
Which qualities do you favor in a Coton?
A Coton to me must have first and foremost a wonderful, sweet, tail-waggy temperament! They should be little characters that make you smile when you see them. J That combined with good health and good conformation should make a wonderful Companion. If that Companion is also a great show dog, that is a plus. But the character and health must be the most important thing. The Coton is bred to be a Companion. That is its job. So temperament and health should come first.
What are your criteria for selection in your breeding program?
As I mentioned before, temperament and health first are the most important things I look for. Added to this, I would like my breeding Coton to have great conformation and structure, black pigment, scissor bite, and a complete set of teeth. The overall ?Look? of the Coton should be in correct proportion and pleasing to the eye.
What do you think about the Coton evolution these last years?
I got my first Coton in 1993. At that time, we had many Cotons that lacked complete pigment or confidence. In the early years of showing we would have many dogs that wouldn't feel confident enough to carry their tail up. The tail was the barometer of their feelings. Today, pigment and confidence in the ring don?t seem to be as great a problem. Breeder?s are producing a much more sound example of the Breed. We have made wonderful progress and the best thing is that the Coton Breeders all over the World are doing this together.
Can you describe the 'ideal' Coton ...
A beautiful, relaxed, cuddly, sweet tempered, healthy puppy with all of the attributes I have mentioned above.
BAR-KEN COTON PUPPIES












If you are participating in dog shows, what are your motivations, and what is your criteria for choosing them?
When I first started participating in dog shows, it was to get more involved with the breed. I wanted to meet other people who were as passionate about this breed as I was. I wasn't very concerned about winning. I just wanted to make it around the ring. I was a little nervous!! As the years went by, winning got to be more fun!!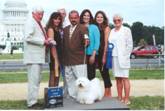 When you are breeding, what elements do you take into account when you choose the dam and the sire?
I think it is very important that the Sire and Dam compliment each other. There is no perfect dog, --so combining dogs that each have something to offer to better the breed is a good start. Producing puppies that may be even better examples of the breed than their parents is our goal.
Why are you breeding?
I breed Cotons because I love and adore this breed. I am in awe of the gift of joy they give to each new family that receives one of my puppies. Cotons make you smile. They are smart, funny, entertaining little creatures that leave you wondering how in the world we could have ever lived without one!