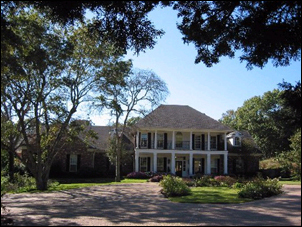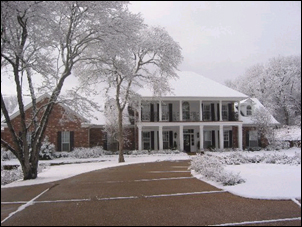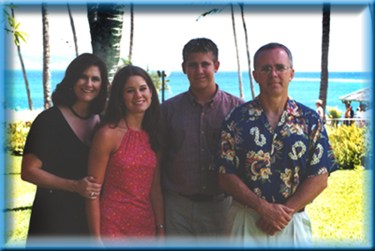 Our Coton de Tulears dogs are a family affair!All four of us, Kent, Barbara, Alicia, and Jonathan are very involved in the raising, training and loving of this wonderful rare breed. Barbara and Jonathan (our Junior handler) are actively showing the cotons in the show ring. Kent and Alicia are very involved behind the scenes.

(Left to Right: Barbara, Alicia, Jonathan & Kent)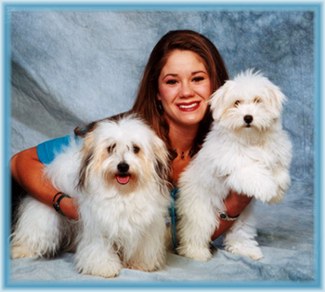 We all have become very passionate in our love and concern for the preservation of a rare breed that so far has been carefully bred and nurtured into one of the fastest growing rare breeds in America today. We believe careful consideration should be given to the genetic health of all breeding adults. Our goal is to have each generation be an improvement on the generation before.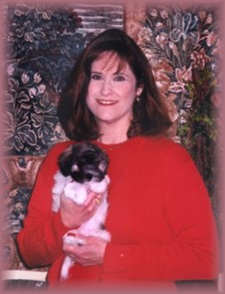 We hope this information helps you learn more about this wonderful breed, the Coton de Tulear. They are true companions, loving to sit at your feet while you work at your desk or in your lap as you watch TV. The Coton de Tulear breed also loves to run and play outside, but they are generally considered indoor dogs. These dogs have a wonderful, entertaining disposition. They have been called the "anti-depression" dog for just that reason. He will give you love and is at times extremely funny. His entertaining, boisterous little personality makes him an immediate loving member of any family.


The Coton usually weighs between 9 and 13 pounds. It is a long-haired breed, but their coat , in my opinion, is easier to care for than other long-haired dogs. They look like little "shaggy dogs" with hair that usually measures 4 to 6 inches in length. The Coton's hair has a soft, cottony touch, hence the name Coton. Tulear comes from the port city of Tulear in Madagascar where the breed originates.
Our puppies are raised in our home with love. They spend their first two weeks in our bedroom. After that they move to our kitchen, which is the center of our home. We give them temporary names and they are loved and cuddled until it is time for them to move to their permanent homes. All of our dogs live in our house with our family. We believe this is extremely important for the proper socialization of these loving animals.