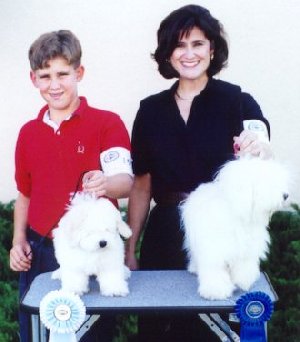 Cotonbrie Nice 'N Easy winning a Best of Show
puppy and Vivane of Woodland Cottage winning
Best of Breed at the ARBA show in Denver.
We haven't spoken much about showing the Coton de Tulear in dog shows. As you can see the cotons sweet, happy temperment is what defines this breed to us as one that is perfect for any family. Being a loving pet and companion is the first and most important job these little dogs have. However I do believe as breeders attending dog shows, seeing what is being bred, interacting and learning from other breeders can only help the future of this breed.
We have had our share of successes in the ring. Our puppies have won Best Puppy of the Breed in at least four Coton Specialty's. We have won Best in Show ( Adult and Puppy) at least 13 times. We now have four Champion Cotons living with us!!

Cotonbrie Moonraker (Luna) winning
Best of Opposite Sex at the Coton de Tulear Specialty

Cotonbrie Moonraker winning two
Best In Show Puppy awards at the
States Kennel Club Show.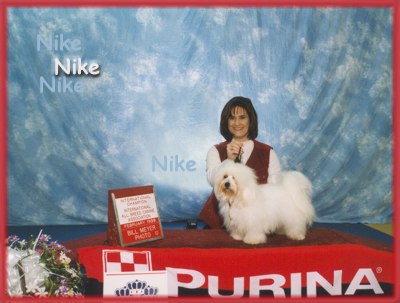 CH. Nike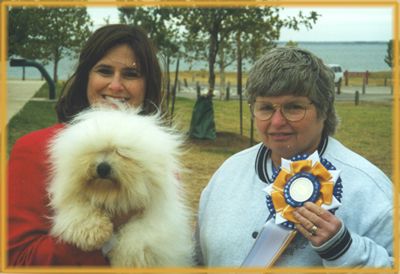 BAR-KEN's JALAPENO OF CASABLANCA
Winning Best In Show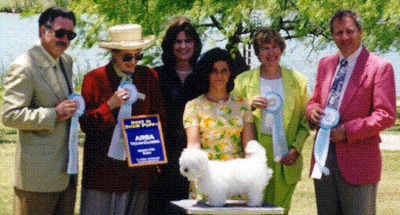 Nike Du Domaine De La Rouviere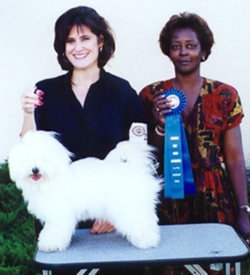 Viviane of Woodland Cottage
taking Best of Breed